Lalo Alcaraz Meets With Area Students, Shares Art, Advice
---
Lalo Alcaraz Wins 2022 Herblock Prize!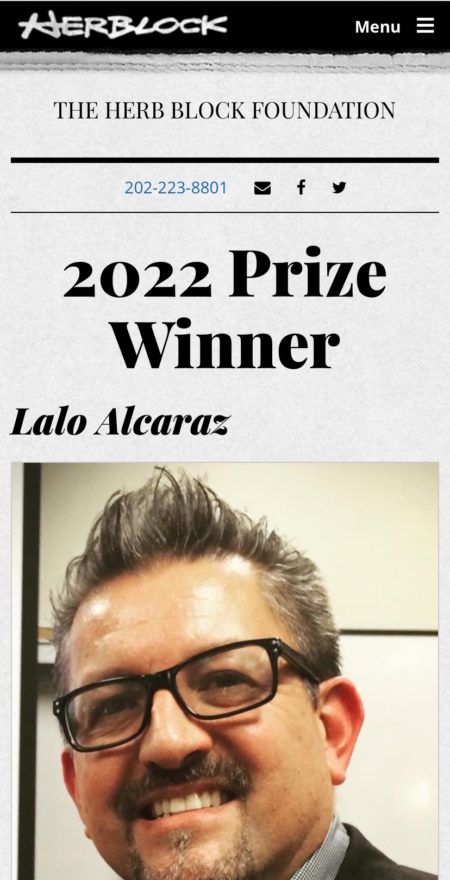 WASHINGTON, DC, Thursday March 3, 2022 – Lalo Alcaraz is the 2022 Herblock Prize winner for editorial cartooning.
Lalo Alcaraz is an award-winning nationally-syndicated editorial cartoonist and the creator of the syndicated daily comic strip, "La Cucaracha", published nationwide since 2002.
Lalo is the winner of six Southern California Press Awards for Best Editorial Cartoon and was an editorial cartoonist for The LA Weekly from 1992-2010. Alcaraz now creates editorial cartoons for Andrews McMeel Syndication, Daily Kos, Pocho.com, and various newspapers including Philadelphia's Al Dia News.
An accomplished illustrator and Chicano artist, Alcaraz's work has been featured in numerous museums, galleries and publications around the world and on broadcast television and documentaries. Lalo's graphic novel and cartoon books include the New York Times bestseller A Most Imperfect Union; Latino USA: A Cartoon History, 15th Anniversary Edition; Migra Mouse: Political Cartoons On Immigration; and La Cucaracha.
Alcaraz is a writer, producer, and cultural consultant for film, TV, and animation, including projects at Nickelodeon, Cartoon Network, Disney, Fox. and Xbox. He was Cultural Consultant on the Oscar-winning animated Pixar film "COCO." Alcaraz is also Cultural Consultant, Consulting Producer, and Writer on the animated series "The Casagrandes" for Nickelodeon Animation. He is a former illustration faculty member of Otis College of Fine Art & Design.
Alcaraz is active in using cartoons and animation to battle vaccine hesitancy and Covid misinformation in the Latino community with the organization CovidLatino.org and the California Department of Public Health. He is currently Virtual Artist In Residence for the School of Transborder Studies at Arizona State University. He is a graduate of San Diego State University (BA in Art) and UC Berkeley (Master's in Architecture).
Lalo was born to Mexican immigrant parents on the US/Mexico border in San Diego, California, lives in Los Angeles with his public schoolteacher wife and is about to have three kids in college.
The Herblock Prize is awarded annually by The Herb Block Foundation for "distinguished examples of editorial cartooning that exemplify the courageous independent standard set by Herblock." The winner receives a $15,000 after-tax cash prize and a sterling silver Tiffany trophy. Lalo Alcaraz will receive the Prize on April 26th in a ceremony held at the Library of Congress. Michel Martin, host of NPR's All Things Considered and host of the Consider This Saturday podcast, will deliver the annual Herblock Lecture at the awards ceremony.
This year's judges were Rob Rogers, contributing cartoonist to Tinyview.com and Counterpoint.com, and winner of the 2021 Herblock Prize; Jenny Robb, Curator of the Billy Ireland Cartoon Library & Museum at The Ohio State University; and Eric Shansby, American cartoonist and children's book illustrator whose work appeared most prominently in The Washington Post.
The judges stated:
Powerful versatility. That is one way to describe the work of cartoonist Lalo Alcaraz. Alcaraz is equally as comfortable creating a faux woodblock print to address our country's history of racism and xenophobia as he is mocking up a blueprint to satirize a rich white billionaire with a space rocket. From a stark dripping red MAGA hat that could be the corporate logo for the bloody January 6th insurrection, to a complex movie poster parody ridiculing right-wing conspiracies, Alcaraz's cartoons always hit their mark.
One of the most striking pieces in his portfolio is his powerful homage to Chicano artist Emanuel Martínez's 1967 Tierra o Muerte (Land or Die). Alcaraz cleverly replaces Emiliano Zapata's rifle with a vaccine needle and titles the image Vacuna o Muerte, creating a work that draws inspiration from the past in order to tackle the current pandemic. No other political cartoonist working in the U.S. brings as much passion, dedication and brilliance to the fight for fair immigration at the border and justice for the Latino community.
Lalo Alcaraz's courage and unapologetic focus on these and other civil rights issues makes him a deserving recipient of the 2022 Herblock Prize."
The Herblock finalist for 2022 is Peter Kuper who will receive a $5,000 after-tax cash prize. The judges said "Peter Kuper's work is distinguished by his forceful confrontation of the catastrophic effects of climate change. He creates painterly four-panel visual pantomimes that uniquely address complex issues with little or no dialogue. Peter Kuper employs craftsmanship and whimsy to deftly deliver scathing commentary on some of the most urgent issues of our time."
The Herb Block Foundation seeks to further the recognition and support of editorial cartooning: https://www.herbblockfoundation.org/editorial-cartooning.
---